Michael Farina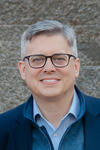 Address:
320 York, Rm 531, New Haven, CT 06520-8311
Michael Farina is a Senior Lector I of Italian. His studies focus on Italian Language Pedagogy, Italian Medieval & Renaissance Literature, Italian Translation, and the History of Italian Cooking.
Before coming to Yale, Michael taught for the University of Connecticut, where he founded the Outreach Program to High School Students of Italian. At Duke University he founded their Italian Language Program at ICCS in Rome, and at Trinity College, he served as Residential Dean and Professor of Italian. In addition to teaching at Yale, Michael has served on the Executive Council of the National Italian American Foundation, the Executive Council of The UNICO Foundation, and the Board of Trustees at Pomfret School (his alma mater). He has also served in political office locally, has run the political campaigns for 3 members of Italian parliament, and has been a Senior Advisor to New Haven Mayor Justin Elicker.
He is the former Director of Yale's Italian Program in Siena.
Michael has published many reviews, articles, and translations, including "Selections from Caproni, Ungaretti, & Montale" (2010), "Tasso's Fifty Conclusions about Love: An Introduction" (2004), "Tasso's Cinquanta conclusioni amorose: Text and Translation" (2004), "Regarding the Interludes and Epilogue of Tasso's Aminta" (2003), and "Tasso's Amor fuggetivo" (2003). His most recent conference presentations have been on "Internet Reading and Communicative Language Teaching" (2003), "Tasso & Love, Or Prison and the Slow Dissipation of Poetic Vitality" (2004), "The Use of Facebook, IM, and Skype in Second Language Acquisition" (2007), "Innovations in Intermediate Italian" (2007), "L1 Student-created Videos" (2023), "Project-Based Instruction in Elementary Italian" (2023). Michael has taught courses for all levels of Italian language; Italian Translation; Baroque Opera; Dante's Divine Comedy; Renaissance Literature; the Poetry of Michelangelo; as well as Greek Civilization, Roman Civilization, and Classical Mythology.
His B.A. is in both Philosophy and Italian from the University of Connecticut, as is his M.A. in Italian Language & Literature.
Courses
ITAL 125: Intensive Elementary Italian
An accelerated beginning course in Italian that covers in one term the material taught in ITAL 110 and 120. This course meets five times a week for 110 minutes. Admits to ITAL 130 or 140.
Day/Time: M-F, 9:25-11:25a.m.