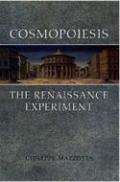 Cosmopoiesis means world-making, and in this erudite, polemical book, Professor Mazzotta traces how major medieval and Renaissance thinkers invented their worlds through utopias, magic, science, art, and theatre. The Renaissance is usually read from a Cartesian or Hegelian (via Burckhardt) perspective. It is viewed as a time of individualities or it is studied in terms of disembodied ideas and abstract forms. Mazzotta calls for a new approach: the necessity to study the Renaissance in terms of the ongoing conversation of the arts and sciences. His is an encyclopedic grasp that takes into consideration literature, philosophy, politics, history, and theology.
The book's theoretical premise lies in the thought of the eighteenth-century Italian philosopher, Giambattista Vico. Vico's own reading of the Renaissance, available in his New Science, is obliquely, yet clearly reproposed as the alternate interpretive key for opening up the deeper imaginative concerns of this extraordinary period of Western history.
By a series of rigorous textual analyses that range from Poliziano to Ariosto, from Machiavelli to Bacon, to Shakespeare and Cervantes, "Cosmopoiesi"s highlights the ongoing dialogue between literature and philosophy (or literature and science, or, in Vichian terms, philology and philosophy) in some of the central texts of the time.
In this dialogue across time and the barriers of space, the esthetic world - the world of the pastoral, romances, epics, utopian fictions, the theatre, and the lyric - far from signalling an evasion from history, is steadily and vitally engaged with the most pressing exigencies of the time. Consistently, the analyses conducted in "Cosmopoiesis" come to grips with these exigencies: the power of science, the relationship between politics and science, and the emergence of a new ethics in the midst of the secretive techniques by new elites in their exercise of political power. Above all, these central texts argue for a necessary reconstitution of the unity of knowledge, for the "encyclopedic" compass of the arts and sciences. The retrieval of this unity is made possible by reclaiming a role for the esthetic or contemplative mode of thought which underlies and shapes the most creative achievements in the world of making.