Giuseppe Mazzotta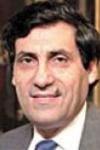 Sterling Professor in the Humanities for Italian, Department Chair
Address:
82-90 Wall St, New Haven, CT 06511-6605
Giuseppe Mazzotta is the Sterling Professor of Humanities for Italian. He has written a number of essays about every century of Italian literary history.
He served as president of the Dante Society of America (2003-2009).
His books include: Dante, Poet of the Desert: History and Allegory in the Divine Comedy (Princeton, 1979); The World at Play in Boccaccio's Decameron (Princeton, 1986); Dante's Vision and the Circle of Knowledge (Princeton, 1993); The Worlds of Petrarch (Duke UP, 193); The New Map of the World: the Poetic Philosophy of Giambattista Vico (Princeton, 1998) (Italian translation, Turin: Einaudi, 2001); Cosmopoiesis: The Renaissance Experiment (Toronto UP, 2001) (Italian translation, Palermo: Sellerio 2008). He has also edited or co-edited several boooks, such as Critical Essays on Dante (Hall, 1991) and Master Regis (Fordham UP, 1985). In 2008, he published the Norton edition of Dante's Inferno (translated by M. Palma).
Courses
ITAL 653b, Baroque Epics
A study in some detail of two outstanding epics of the Italian Baroque period (Tasso's Gerusalemme Liberata and Marino's Adone). The course stresses such issues as the clash between Christians and Muslims, the continuity of the epic tradition, the retrieval of the language of the lyric, the rethinking of baroque arts and sciences, such as perspectivism, new geographical and astronomical theories, encyclopedism, and contemporary aesthetics of music and art. Guiding idea is the examination of the specific ways in which the two poets represent history, theology, and politics in their texts and, along the way, articulate a theory of modernity.
Day/Time: Tuesday, 3.30 p.m.
ITAL700a, Vico's Poetic Philosophy
This course examines Vico's thought globally and in the historical context of the late Renaissance and the Baroque. Starting with Vico's Autobiography, working to his University Inaugural Orations, On the Study of Methods of Our Time, the seminar delves into his juridical-political texts and submits the second New Science (1744) to a detailed analysis. Some attention is given to Vico's poetic production and the encomia he wrote. The overarching idea of the seminar is the definition of Vico's new discourse for the modern age. To this end, discussion deals prominently with issues such as Baroque encyclopedic representations, the heroic imagination, the senses of "discovery," the redefinition of "science," the reversal of neo-Aristotelian and neo-Platonic poetics, the crisis of the Renaissance, and the role of the myth.